We currently offer free instruments as part of two projects: "KIViR" (Keyboard Instrument Virtual Restoration) and "Bells and Carillons".
The KIViR project contains ancestors of the piano (clavichord, cimbalom, harpsichord), historical pianoforte and pianos.
The Bells and Carillons project contains church bells, carillons and tubular bells.
Below is a detailed description of these.
Bells and carillons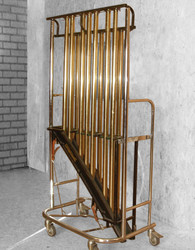 Tubular bells
This is a virtual copy of a Tubular bells.
The add-on is modelled after a Bergerault 18 Note concert chimes which is made of brass tubes of graded length that are tuned to a chromatic scale. The instrument appeared for the first time in England in the late 19th Century and is ever since part of major symphonic orchestras. The add-on includes 3 variants and has an extended note range: 5 octaves instead of the usual 1½ octave.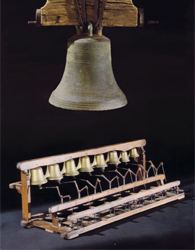 Church bells and carillons
This is a virtual copy of bells and a carillons that were recorded at the European Bell Institute.
The use of bells in the Christian church goes back to the early Middle Ages. A bell is an idiophone, that is, a musical instrument which produces a vibration. The bell is in fact one of the loudest of musical instruments. The sound has the power to bring many mixed feelings derived from our experiences connected to it: joy, happiness, grief, fear, relief, revelation, excitement, amazement.
We are grateful to...
... for their valuable contributions.
Special acknowledgments to the following instrument owners:
C. Bechstein Digital, Germany (C. Bechstein DG)
J. Blüthner Pianofortefabrik GmbH, Germany (Blüthner Model One grand piano)
Grotrian Piano Company GmbH, Germany (Grotrian Concert Royal grand piano)
Peter Karsten, Germany (Karsten collection)
Daniel Parisot, France (Hamburg Steinway D)
PETROF, spol. s r.o., Czech Republic (Ant. Petrof)
Steingraeber & Söhne Piano Manufactory, Germany (Steingraeber E-272)
Steinway & Sons, USA (New York Steinway D)
Michel Armengot, France (CP-80)
Paul Badura-Skoda, Austria (Walter)
Robin Bigwood, UK (Grimaldi, François-Etienne Blanchet)
Olivier Cussac, France (Rhodes MK1, Wurlitzer 200A, Clavinet D6)
European Bell Institute, France (Bells)
Luigi Gaggero, Italy (Cimbalom)
Haendelhaus, Germany (Schmidt)
Monique Niebisch, France (Sébastien Erard)
Christophe Nebout, France (Pleyel model F)
Orchestre du Capitole de Toulouse, France (Celesta, Glockenspiel, Marimba, Xylophone, Tubular bells)
Toulouse les Orgues, France (Orgue du Gesu)
Gilbert O'Sullivan, UK (Carl Bechstein)
Kremsegg Schloss, Austria (Neupert, Schöffstoss, Schantz, Graf)
Pascal Gaillard, France (Steel Drum)
Marc Guilliou, France (Spacedrum, Hand Pand, Tank Drum)
Klaus P. Rausch, Germany (Electra-piano, Pianet T)
Many thanks also to our customers and forum users who shared with us their valuable opinions and ideas.