Conrad Graf pianoforte
---
Description and history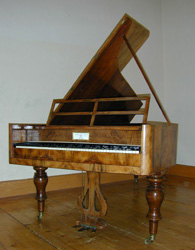 Conrad Graf (1782-1851) was one of the first Viennese makers to build pianos in quantity, as a large business enterprise. In 1804, when marrying the widow of his former employer, the piano maker Jakob Schelkle, he had the funds required to open his first workshop which also incorporated a distinguished showroom.
Because of the quality of his instruments, these were held in high esteem, and soon his workshop was considered the greatest and most renowned in Vienna and throughout the empire. In 1824 he became Royal Court Piano and Keyboard Instrument Maker — a title of honour that indicated excellent quality.
The Graf piano has Viennese action, in which the key is directly connected to the hammer. It produces a sensitive, clear tone, softer in volume than that of the English-action pianos and was preferred by many composers and players for its greater sensitivity. Like other piano builders, Graf offered his instruments in various designs, clearly distinguished by different prices.
Graf supplied a few of his instruments for the wedding of Clara and Robert Schumann and for Fryderyk Chopin's 1829 concert in Vienna. The perhaps most famous Graf piano was built for Ludwig van Beethoven in 1825. The piano is today displayed in the Beethoven House in Bonn. Although the construction facilitated the usage of hearing aids, and to handle really fast passages such as those of Beethoven's last piano sonata, Beethoven had in fact already completed all of his piano works when the instrument arrived.
The 1826 Graf pianoforte add-on used for Pianoteq was recorded at Schloss Kremsegg, A-4550 Kremsmünster, Austria, as part of the KIViR project.