PIANOTEQ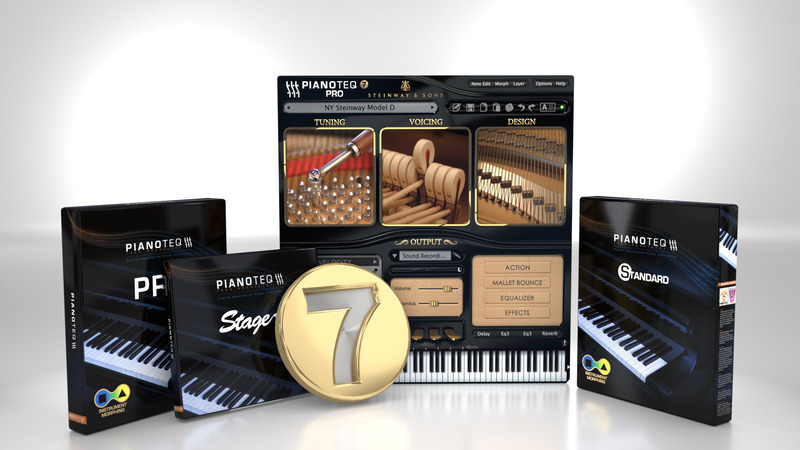 Pianoteq 7: a mature technology
Pianoteq is an award-winning virtual instrument which you can install on your computer (PC/Mac). It is available for Windows, macOS, and Linux, and will even run on some ARM-based boards such as the Raspberry Pi. It can be used both in standalone mode and as an instrument plug-in in VST, AAX, and AudioUnits hosts.
Pianoteq offers superior playability and reproduces the complex behaviour typical of real acoustic instruments. Moreover, it lets you tweak the sound to your taste with the help of unique parameters. The Pianoteq sounds are authorized by Steinway & Sons, Bechstein, Petrof, Blüthner, Steingraeber, Grotrian, Hohner, among others.
Because there are no samples, the file size is just a tiny fraction of that required by other virtual instruments, making Pianoteq perfect for any modern laptop. Installation is simple and fast.
Pianoteq features highlight
Physically modelled piano
Real time sound generation
Full dynamics - no velocity switching
Very expressive with superb playability
Sounds and behaves just like a real piano
Unique tuning, voicing and design adjustments
Morphing and Layering features
Mic position, up to 5 mics
Multi channel, up to 5 channels
Piano factory - easily create your own piano
Many effects + a convolution reverb
Advanced preset and parameter manager
Unlimited perspectives
64-bit versions available
Native Linux (x86) version available
Works great on any modern laptop
Fast loading - just 50 MB in size
ORGANTEQ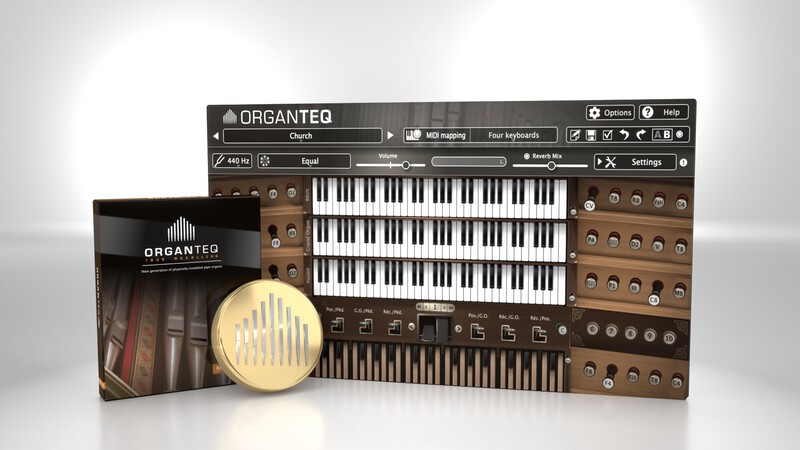 Organteq: physically modelled pipe organs
Organteq is a physically modelled pipe organ for MacOS, Windows and Linux (x86). It includes a standalone version and 64-bit plug-ins for VST, AAX, and AudioUnits hosts.
The organ sound is generated in real time from scratch, reproducing the typical and variable pipe attack transients "chiff" as well as the 3D configuration, where pipes are located in space according to their keyboards. Even the action noises from keys, stops and couplers are modelled. All this makes the instrument livelier than sample based variants, bringing more realistic variability in attack and sustain.
By omitting usage of samples, the file size is just a tiny fraction of that offered by other virtual organs, perfect for use on any modern laptop. Installation is simple and fast.
Organteq features highlight
Physically modelled organ
Real time sound generation
Three five-octave keyboards and a thirty-two note pedal keyboard
Ten assignable stops per keyboard
Pipe-per-pipe adjustable parameters for each stop
Adjustable tremulant
Adjustable expression pedal
Adjustable crescendo pedal
Adjustable keyboard couplers
Adjustable combinations ("presets" for stops)
Customizable reverb, from dry to wet sound
Adjustable diapason and temperament
Fine-tuning note-per-note
MIDI Learn feature for assigning external MIDI devices
MIDI Mapping with keyboard-split feature
Works great on any modern laptop
Fast loading - just 20 MB in size
Organteq compatibility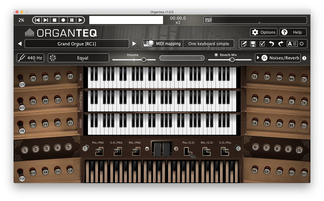 Discover Organteq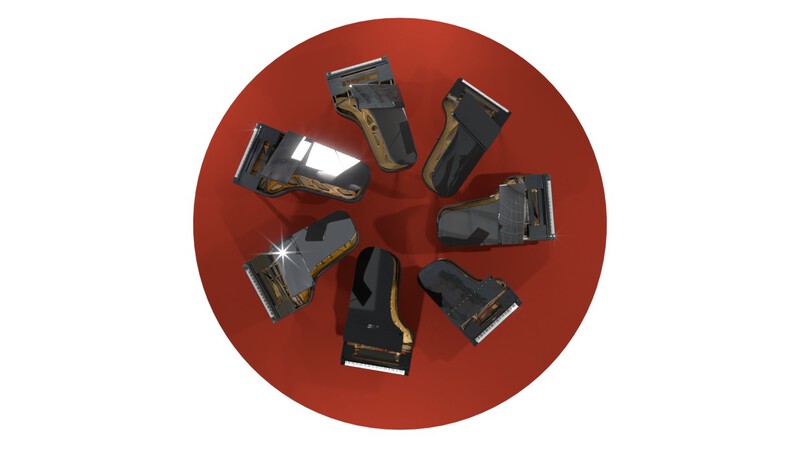 What's new in Pianoteq version 7.5
Revoicing of NY and HB Steinway D, Steinway B, Ant. Petrof, Petrof Mistral, C. Bechstein DG, Steingraeber, Blüthner.
Added option for damping notes when the sustain pedal is pressed
Advanced external microtuning capabilities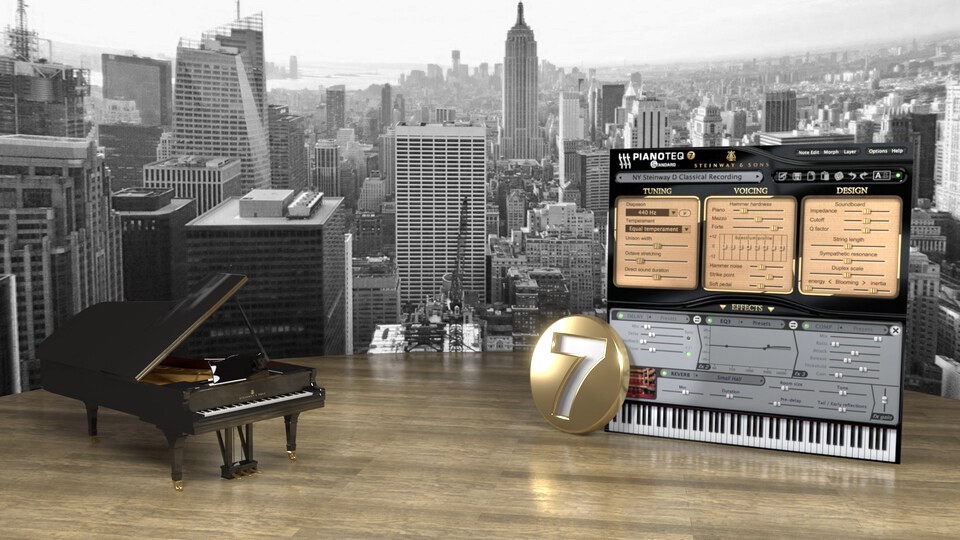 Pianoteq 7 released
It is here! Pianoteq 7 (Standard/PRO) introduces acoustic Morphing and Layering. This innovative technology lets you create and mix hybrid instruments with stunning authenticity.
It also offers the very first physical model of Steinway's groundbreaking new flagship instrument: the Model D Spirio|r. Based on recordings from the renowned Steinway Hall in New York, it provides the famous Steinway concert piano sound with superb musical expression.
Moreover, all piano models in Pianoteq have been refined by using a new string/soundboard modelling (double polarisation), bringing longer and more complex tones with a three-dimensional character.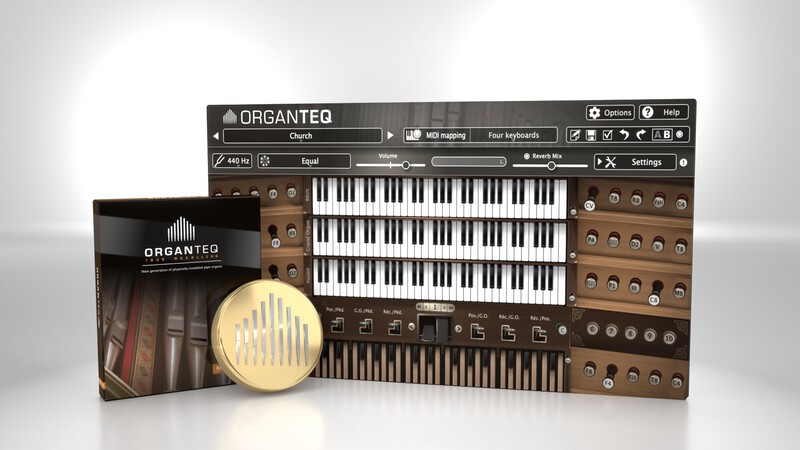 Organteq 1.5 released
Organteq has been upgraded to version 1.5 with new exciting features, such as adjustable tremulants, 8-channel output, extra parameters, new combination banks plus presets which let you explore new amazing sound colours and room acoustics.
The upgrade is free for all registered users of Organteq. Just log in to your account to download. A free trial version is also available.